By Umut Newbury
October 10, 2007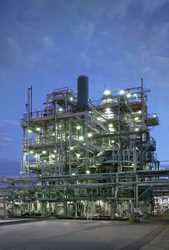 Tom Jackson's Out of Balance: ExxonMobil's Impact on Climate Change, which premiered on satellite television channel World Link this week, exposes not only exactly what this big oil company has done to spin the debate on global warming but also tells us specifically why we should not buy into its propaganda.
In Out of Balance, Jackson arms himself with a number of climate change experts such as Michael Oppenheimer and Bill McKibben. These experts take us step by step through the facts surrounding global warming. For example, it is a known fact that there is a link between carbon dioxide and temperature. Scientists have collected data from ice cores that can tell us how atmosphere and temperature changed over the last 400,000 years. What they found is that the warming of the last few decades is inconsistent with the natural warming patterns of our planet.
The United Nations General Assembly called for an assessment of climate change almost 20 years ago – in 1988. The best climate scientists of the world wrote a report, which was reviewed by hundreds of other scientists. By 1995, the world scientists were in a consensus: This is going to be a serious problem. 
Many people have argued since Hurricane Katrina that obviously climate change is not so bad or it doesn't exist, because we have not had another Katrina. The scientists Jackson interviews clarify this fallacy once and for all. Global warming does not mean that there will be an increase in the number of storms per se, but the tropical storms that do form will become stronger because of the warming oceans.
Bill McKibben points out that though we are all responsible for the unusual warming of our planet, every problem has a face and the image of global warming includes ExxonMobil and its former CEO Lee Raymond. 
While considered a hall of famer in the area of CEOs who maximize shareholder profitability, Raymond also is known for managing to delay action on climate change for over a decade. Jackson points out that while many large energy corporations such as BP are trying to green their image with slogans like "Beyond Petroleum," ExxonMobil is proud to be just an oil company. Read the rest of this entry »