By Bryan Newbury
July 30, 2008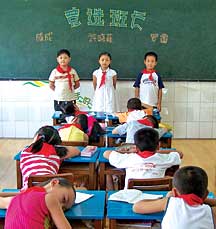 Democracy, it could be argued, is a swindle. The quintessence of a bunco game perpetrated on the well meaning and cynical alike. This isn't the exact conclusion one suspects Weijun Chen is aiming at delivering in his superlative documentary, but, for those predisposed to the notion, it is conveyed masterfully.
Please Vote for Me documents a class monitor election at Evergreen Primary School in Wuhan, China. It would be hard to argue that the Chinese haven't the capacity or ability for electoral politics after this short hour. Indeed, they're ducks in water.
The concept is novel. The third grade class will take part in an election for class monitor, as opposed to the selection that had always occurred. The candidates have been chosen by the instructors (free markets did lead to Western style democracy! Yaaay!) and put through the paces of what turns out to be a difficult, brutal and astonishingly mature election season. 
If the candidates were chosen specifically for the purpose of a film, it wouldn't be surprising. The key to any good election… or election film, for that matter… is to have compelling candidates who fit certain profiles while belying the traits one expects and then return to home in a roundabout fashion. The characters typically break down thusly: an autocrat; a visionary; and a charlatan. It would seem that candidate Cheng Cheng fits the first and third categories nicely. Early on, he espouses the virtue of class monitor in starkly authoritarian terms. "The class monitor," he reminds us, "gets to order people around." Cheng Cheng does a good deal of this, both at school and at home. He is equal parts Dick Cheney, Barack Obama and Eric Cartman. Even as he begins his dirty tricks campaign against his adversaries – it took about four minutes – Cheng Cheng manages to charm and amaze with a combination of sweeping rhetoric and democratic ideals. At first, his motivations seem to be the purest of political ones, namely, that he wants the office and could use the control. As the film progresses, the child displays a personable and complex character. Few observers will argue early on that he isn't a winner.
The next candidate, a female, is Xu Xiaofei. Unlike the two boys, Xu comes from a single parent home. We quickly see that bare knuckle campaigning just isn't in her. Cheng Cheng deploys a sort of primitive Swift Boating during the musical competition, which leaves her in tears. She is kind and deliberate, not exactly the stuff of Tammany Hall. 
The third, and incumbent, candidate is Luo Lei. Much like Cheng Cheng, the first impression can be misleading. When discussing campaign strategy with his parents, Luo Lei insists that his compatriots should make their decision freely, and of sound mind. As the film develops, we learn that Luo defines bearing any burden through a clenched fist. There is an hilarious scene where both Xu Xiaofei and Cheng Cheng's campaign staffers are compiling a list of Luo Lei's shortcomings as class monitor. When Xu Xiaofei's emissary gets around to Cheng Cheng himself, he states that a serious flaw in Luo Lei as monitor is that he beats the students too much. "We've got that one already," she responds, to Cheng Cheng's amusement.  In the course of debate, Cheng Cheng asks for a show of hands on who has been beaten by Luo Lei during his tenure as class monitor. There are quite a few volunteers. Luo Lei defends himself, as his parents suggested the night before, with very paternalistic reasoning. "Sure, I beat you, but only because you misbehave. If a parent beats his child, is it for no reason?" Cheng Cheng responds logically, stating that Luo Lei is a child himself, not an adult, then continues with a rhetorical flourish that eventually renders his opponent speechless. He has vanquished the more difficult foe, it seems.  Read the rest of this entry »