By Bryan Newbury
October 20, 2008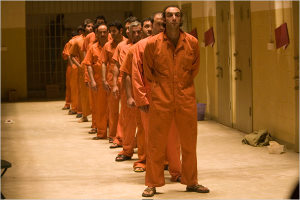 Nearly six years ago, the United States committed itself to a costly and embarrassing debacle. In the end accounting, we'll be looking at a $3 trillion price tag, in addition to the 4,181 (and counting) servicemen who've died in country (the statistics on casualties are subject to some creative accounting… it is hard to know the true number of American soldiers killed and maimed because of this), the 300,000 to 1.5 million Iraqi deaths (who's counting?), and a few generations of international leprosy that make the 21st Century a hell of a time to manufacture Canadian flag backpack decals.  
While it is obvious that the likes of W., Cheney, Rumsfeld, Wolfowitz, Rice and Kristol, among others in the neocon rogues' gallery, were the team that brought us the fiasco, much has been made of who the bench team of blame might be. Is it the Congress, for rubber-stamping virtually any action the administration suggested? Is it a complicit media, who took a pass on their charge as the Fourth Estate and assumed the role of official stenographers? Could it be the American people, who should've known better despite government and media propaganda that seemed to fool only us?  
As Errol Morris artfully depicts in Standard Operating Procedure, the above list of possible co-conspirators has come to their own comforting conclusion. The people to blame, as it turns out, are low-level enlistees of the United States Army. 
While S.O.P. is a film about the Iraq War, specifically the sickening spectacle of Abu Ghraib, it is also a meditation on the role of women in the military, the idea of complicity in evil, and the digital camera. Morris is keen to point out that photographs are, in some ways, the central characters of the film. We begin with them and end with them, and most of S.O.P. pontificates on how a still photo, or even a moving picture, can simultaneously rescue events from the memory hole and frame our perception of events.  
Morris makes his case through a host of interviews with people involved in our war crimes theme park. We see the story through the eyes of the men and women who were implicated in the photographs our nation will not live down any time soon, from the PFCs and sergeants who actually took the fall, to a private contractor, up to Brigadier General Janis Karpinski, who fell on the sword the way generals do, not by way of a jail term but by professional hand slapping. As her interviews progress, it is hard to see whether even the hand slapping was merited, and she offers a few names who could be added to our ever-growing Nuremberg list.  
The film challenges our perceptions at every turn. More surprising than any revelation we get about the infamous Lyndie England are the photographs and letters of SPC Sabrina Harman, best known for her smiling, thumbs-up shot with a severely beaten dead man in a body bag full of melting ice. The question seems obvious, but, until Morris bothered, seems to have gone unasked: the shot is pretty gruesome, and obviously this young woman is quite disturbed… but, who killed the guy? This scene is the major chord around which the Abu Ghraib torture photos ascend and descend. When these pictures came out, people the world over were rightly disgusted, saddened and angered. Given the visceral reaction they elicited, it should be little surprise that the scope of investigation was myopic. The emotional impact of on-the-ground proof that we do indeed torture was such that the only psychological response for the vast majority of people is to recoil, punish the act and not go into the matter any further, giving birth and breath to the "bad apple" account of events. Send the grunts to the brig and this water will make our hands clean. Read the rest of this entry »