By Sarah Boslaugh
December 22, 2008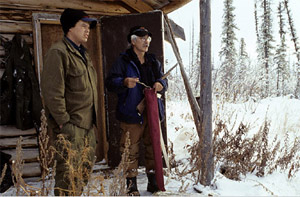 Stanley Njootli, Jr. is a young man at the crossroads: he's charming and amiable and has a talent for art, but he also a taste for drugs and alcohol and idling his time away in bars. In his early 20's, Stanley Jr. has already experienced homelessness, and even his drinking buddies tell him its time to go into rehab.  
Stanley's father, Stanley Njootli, Sr. has a different idea: Stanley Jr. should leave the temptations of the urban world behind and come to live with Stanley Sr. in Old Crow, a small village 80 miles north of the Arctic Circle. There's no road access to Old Crow, and also no bars, restaurants, or movie theaters: satisfaction comes from work, family and friends, with radio broadcasts and community dances for additional entertainment.  
Besides the absence of urban temptations, Stanley Sr. believes that if Stanley can reconnect with the traditional lifestyle of his ancestors (the First Nations Gwich'in tribe), he'll find his identity and sense of purpose. And it will give the two a chance to reconnect as well: Stanley Sr. abandoned his wife and children almost 25 years previously, in part because he did not deal well with the temptations of the "south" (the contiguous 48 states), so father and son are virtual strangers. 
The experiment does not begin promisingly: his first night in Old Crow (by law a dry town) Stanley Jr. goes out to party, finds a source of homebrewed alcohol, and comes home drunk. He's not at home in his new environment, and his initial attempts at traditional skills, from managing a dog team to ice fishing with a net, do not go well. 
But Stanley Sr. is patient and consistent, and gradually Stanley Jr. comes to appreciate a lifestyle which is very different from anything he's known, and to take pride in his new skills. The relationship between father and son clearly grows stronger as well, although neither is given to displays of emotion or long discourses about their feelings. Stanley Sr. does articulate his beliefs on the value of the traditional lifestyle while Stanley Jr. communicates by his manner that he's starting to agree. 
But the stay in Old Crow wasn't meant to be permanent, and Stanley Jr. returns to Washington State. He gets a meal at Burger King, heads to the mall and goes out drinking with friends, but concludes that it's not as much fun as it used to be. Although Stanley Jr's future is uncertain, he chooses to return to Old Crow at the end of the film, and his time there has clearly made him a more reflective and responsible young man. 
Calm is the prevailing mood in Arctic Son, as if director Andrew Walton wanted to reflect the experience of the Gwich'in lifestyle in his film. Excellent cinematography by Jonathan Furmanski and Jeff Stonehouse reveals the northern landscape as spare and harshly beautiful, and Walton allows the story to unfold at a natural pace. He shows the two men slowly journeying toward an understanding which is implied more than stated, and presents it without interpolations by talking heads or voiceovers: what you see are the two Stanleys going about their daily lives and occasionally commenting on them in matter-of-fact terms.  
The elephant in the living room is global warming, which is barely mentioned in Arctic Son. At one point Stanley Sr. notes that the temperature in Old Crow has begun to reach 80 degrees in the summer time. That's no idle comment, because it can bring about a change in the ecosystem which could destroy the subsistence hunting and fishing culture which is the basis of the Gwich'in traditional lifestyle. It is further threatened by the proximity of Old Crow to the Arctic National Wildlife Refuge in Alaska: the continuing debate about drilling for oil in the Refuge is not just an academic discussion for the Gwich'in since it would threaten the caribou herds which form an important part of their livelihood.  
DVD extras include a family-friendly version which bleeps out the stronger profanity, a 10-minute interview with director Andrew Walton, four additional scenes (one also in a family-friendly version), and a gallery of Stanley Jr's artwork which, true to his description, is weird, but also shows his potential as an artist. The director's interview includes background information about the film, including its origins: Walton met Stanley Sr. while researching a film about oil drilling in the Arctic National Wildlife Refuge, and was impressed by his intelligence and the depth of his knowledge of traditional Gwich'in culture. Stanley Sr, in turn, wanted to record traditional Gwich'in skills on film before they disappeared.  
Arctic Son was broadcast as part of the PBS series P.O.V. and is distributed by docurama. Further information is available through their web site http://www.docurama.com/, email  (info@newvideo.com) or by calling 1-800-314-8822. 
—–  
Arctic Son
docurama films
Directed by Andrew Walton
Color, 2006, 75 Minutes