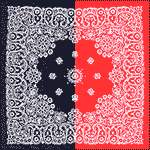 Raised in the Athens Park neighborhood of Los Angeles, Cle "Bone" Sloan was four years old when his father died, and 12 when he became a member of the Bloods. Now an inactive member of the notorious gang, Sloan looks back at the history of black gangs in his city and makes a powerful call for change in modern gang culture with his insightful documentary, BASTARDS OF THE PARTY.
Acclaimed feature film director Antoine Fuqua ("Training Day") produces along with Sloan, who also directs.
Haunted by his involvement in the Bloods' pervasive culture of violence, Sloan wanted to explore where it all began. In researching the subject, he discovered that the roots of black gangs were nurtured within a distinct political landscape. BASTARDS OF THE PARTY traces the development of black gangs in Los Angeles from the late 1940s, through the charged atmosphere of the '60s and '70s, to the breakdown of community in the '80s and '90s, and the brief truce between the Crips and Bloods that followed the Rodney King riots in 1992. Among the gangs that figure in the story are the Spook- hunters, Farmers, Slauscons, Businessmen and Gladiators.
The documentary features interviews with past and current gang members from the Bloods and Crips; LA historian Mike Davis, whose book "City of Quartz" sparked Sloan's own project; former FBI agent Wes Swearingen; and Geronimo Pratt, the former Black Panther Party minister of defense, among others.
–Read the rest of this entry »