By Umut Newbury
August 24, 2007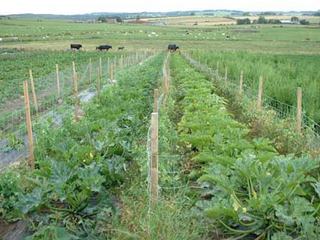 Film is still one of the best mediums out there for grassroots action. 
What else could have the power to bring together nonprofit groups from New York, community activists from the Midwest, and students, academics, farmers and foodies to a sleepy little college town in Kansas? 
Before the screening of the "Go Organic!" short film series in Lawrence, Kan., on Aug. 23, one could sign up to rally against the exploitation of farm workers by Burger King; speak out against genetically engineered rice farming experiment in Junction City, Kan.; or learn about a biodiesel bus trip across America.
The Lawrence-based nonprofit Films for Action, Local Burger restaurant and the New York-based nonprofit Sustainable Table were the presenting partners of the screening. Rural Route Films, a New York nonprofit which highlights films that deal with rural places and people, originally put the series together and offered it up for screenings nationwide. (Check the group's myspace page for upcoming screenings: www.myspace.com/ruralroutefilmfestival)
Sustainable Table was in town as a part of their "Eat Well Guided Tour of America," a bus tour which started in California earlier this month and is headed to New York for this year's Farm Aid concert on Sept. 9. 
The featured speaker of the evening was the new local celebrity Simran Sethi, host/writer of the Sundance Channel's new program, "The Green," and a lecturer at the University of Kansas School of Journalism. She quickly set the tone for the evening: "We are what we eat and where we eat. The choices we make for food not only affect our health, but our community and economy."
Hilary Brown, owner of the Local Burger restaurant in  Lawrence, Kan., provided the free organic fare for the audience before the screening and offered one solid advice: "Educate yourself about genetically engineered food."
Tim Hjersted of Films for Action explained the beginnings of his nonprofit group in 2006. "We realized that the way the overcome many of the problems we're facing today is to overcome the media itself."  The Films for Action group has been showing documentaries locally for a $2 admission and is also planning on a free lending library of all the DVDs in its collection.
The evening started with by now the very-Internet-famous, The Meatrix. The brainchild of the Sustainable Table group, The Meatrix, is not a documentary short, but rather an anime information film about factory farming. It has enjoyed wide popularity for its witty and cute spinoff on the blockbuster movie, The Matrix. In this short, instead of Keanu Reeves, we get Leo the pig who takes the red pill from Moopheus and sees the truth about factory farming. The Meatrix, as Moopheus puts it, is "the lie we tell ourselves about where our food comes from."
First on the "Go Organic!" series was Frankensteer from Alberta, Canada. Frankensteer examines how the modern agriculture industry took the cow and experimented with it to turn it into the perfect food machine. The film features stunning footage of Alberta's "Feedlot Alley," where one million cows are housed and slaughtered each year. From the bird's eye view shots, all we see are muddy, dirty open-air pens where hundreds of thousands of cows are squeezed in together. Directors Ted Remerowski and Marrin Canell then take us to Bob Kerr's free-range cattle farm, where cows graze happily on green pasture. Kerr calls it "Heifer Heaven." The film shows how the life of the cow started to change in the 1960s, when industrial farmers figured out how to fatten it cheap and fast by what they call "grain finishing." Rick Paskal, a feedlot operator in Alberta, says, "Grain-finished beef produces the marbled meat which the consumer demands." But farming expert Tim McAllister explains how cows would have never evolved to eating grain naturally because it makes them sick to their stomachs. In 2005, hundreds of cows died in Alberta's "Feedlot Alley" after eating too much grain, which made them drink too much water and freeze to death. 
So what is industrial agriculture's solution to this problem? They start pumping the cows with "subtherapeutic" levels of antibiotics. Subtherapeutic means every cow, whether sick or not, is given pellets of antibiotics, in order to prevent disease and resist diseases from other cows in the same feedlot. This practice is banned in Europe entirely because, you guessed it, consuming meat products pumped with antibiotics results in superviruses in humans that are resistant to those drugs. But in Canada and the U.S., it's still fair game.
Remerowski and Canell do a good job of getting an unbiased view of factory cattle farming by talking to insiders such as Paskal, who doesn't deny that this is a business of economics. "We put $50 into a sick animal, after that they're done," he says.
The second film of the series, Back to the Land…Again, is pastoral and positive compared to Frankensteer. Director Gretta Wing Miller takes us on a journey of beautiful organic farms across Wisconsin, where lots of people are doing a lot of good. "What we see here is a renaissance of a very old idea," says farmer James Welsh. "It is the marriage of modern science and common sense."
On an organic dairy farm in Bristol Township, Jim Miller says he enjoys organic farming because it is a really good way to make a living. He is one of the lucky cooperative farmers of Organic Valley. At Harmony Valley Farm, Richard De Wilde says he only ships his products as far away as Chicago, because that's "our region."
"A lot of our customers made the leap from organic to local and seasonal," he says. All three of these farms are green, lush and healthy looking. The dairy farmer, Jim Miller even goes on to say that they don't have to use antibiotics on the dairy cows, because they eat dandelion root and garlic, which boosts their immunity system. "When we switched to organic dairy farming in 1994, we saw a big drop in disease in the animals," he says.
In Back to the Land…Again, the farmers are so right-on that one of them mentions how they are looking into using sheep as an alternative to mowing. "We just let them graze and eat the lower leaves of the fruit trees, that gives us an idea of how to prune," says Greg Welsh.
The third and last film featured at the "Go Organic!" series was by far the most fascinating. The Power of Community: How Cuba Survived Peak Oil, looks into the urban organic agriculture initiative in Cuba that sprung from the fall of the Soviet Union. Faith Morgan's documentary for the nonprofit Community Solutions argues that when the Soviet Union collapsed a mini peak oil crisis dawned on Cuba. This small island nation had committed fully to fossil-fueled and chemical-laced form of agriculture during the heyday of the U.S.S.R. But with the fall of the Soviet Union, there were no more chemicals and not a lot of petrol to go around. What did they do? Started small organic urban gardens and farms everywhere. Every imaginable plot, including rooftops and patios. The result, in less than 20 years, pesticide use dropped substantially, 80 percent of all food grown in Cuba became organic and 50 percent of all food now comes from urban farms/gardens. Morgan is intense in her interviews to document and credit this extraordinary conversion tale in Cuba. It seems she talks to dozens of people and canvasses the whole island for the film, which is much more comprehensive than Michael Moore's coverage of the Cuban health care system in Sicko.
Morgan reveals that not only are people eating better food that is local, but that farmers are now among the highest paid workers in Cuba. Now, this is a truly inspiring story. For all those gloomy environmentalists out there, apparently when humans are faced with starvation, they will change their ways and do the right thing. Now if only we could simulate world Peak Oil…
—–
Frankensteer
Directed by Ted Remerowski & Marrin Canell, 2005, Bullfrog Films, 48 minutes
www.bullfrogfilms.com
Back to the Land…Again
Directed by Gretta Wing Miller, 2006, 57 minutes
The Power of Community: How Cuba Survived Peak Oil
Directed by Faith Morgan, 2006
www.powerofcommunity.org
The Meatrix I, II, II ½
Directed by Louis Fox, 2003, 2006
www.themeatrix.com