By Eddie Glenn
November 12, 2006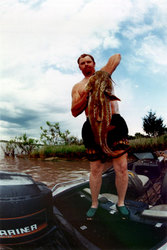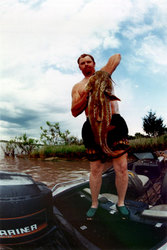 It's not hard to understand why some viewers of "Okie Noodling" might think it more akin to reality TV than film documentation.
Every time I watch director Bradley Beesley's 2001 documentary in the company of non-Okies, I hear comments like, "This can't be real!," and "There's no way!" Of course, I have to forgive their skepticism, because what they're watching really doesn't seem to make sense. Why would grown men stick their hands under ledges and rocks in murky water, wriggle their fingers to entice an already-paranoid catfish, wait for that special moment when the fish clamps down on said fingers/bait, grab a handful of fish innards, and pull?
There are, after all, much less painful methods of catching a catfish. But noodlers, as simple as they may appear to some viewers of this film, aren't completely stupid. They know about Zebco, Trilene, stinkbait, trotlines, and all that other paraphernalia used by their less adventurous catfish-catching brethren. They just don't give a flying rat's ass about that stuff.
They're not mere fishermen.
They're noodlers, and the two are no more similar than professional bull-riders and the kids on the mechanical pony out in front of Wal-Mart.
(There's an Okie analogy for ya.)
Noodling, or hand-fishing, is prohibited in most states. But in Oklahoma (where my grandfather and great-uncles kept the family fed during the Great Depression on noodled catfish) it's a legal means of landing only one species of catfish – the channel cat. Noodling season usually coincides with the month of June, but it can spill over into July if the weather's a little off. That's when the female catfish have laid their eggs, taken a well-deserved post-partum vacation, and left the fellas to guard the eggs. Then along come the fingers of a noodler, threatening the spawn-shack, and the fight is on. The catfish attacks, and both parties to the contention attempt to pull one another into less-than-hospitable environs. The process, as the videography in Beesley's film illustrates very well, is downright atavistic, with lots of heavy breathing, grunting, occasional yelling, and, of course, splashing. The language, the glimpses of noodlers' everyday lives, and the interviews of Okie non-noodlers (the comments by the significant others of noodlers is absolutely priceless! I was laughing so hard, I had to go back over it a couple of times), make "Okie Noodling" a documentary of culture as much as sport.
The denouement of the film – the first-ever Okie noodling competition – is downright heartbreaking, as these heavily accented, beer-swilling, red-necked, fish-baby-killing good ol' boys (but they're kin, and I still love 'em!) actually show a vulnerable side that anyone, noodler or no, who's ever dived down deep and come up short can understand.
Little pockets of folk culture like the noodling scene of southern Oklahoma exist all over the United States, but they rarely get fair treatment by film documentarians. Beesley's "Okie Noodling" presents the sport — as bare, basic, and honest as its participants — without any judgment, and offers up a great soundtrack by fellow-Okies the Flaming Lips to boot. The interview of Lips lead signer Wayne Coyne on the DVD version is a must-see, as his explanation of the inspiration for the tunes will leave one wondering, "Just how sexual can wrestling with a catfish really be?"