By Bryan Newbury
January 27, 2010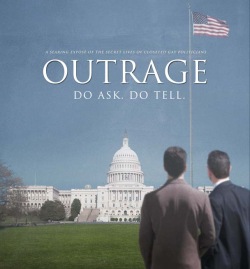 Aside from a pun, there isn't a conceptual device more deservedly pilloried than a truism. If there is a hobgoblin of discourse, this is indubitably the worthiest candidate. To say they are rhetorically ubiquitous is to fall into their clutches. It is with knowing rancor that this reviewer participates in this lowest form of colloquy, yet it needs to be said: if a person in public life becomes exorcised about an issue regarding genitalia, one can be certain that the behavior he or she (mostly he) rails about is one in which that person engages overtly, maliciously and often flamboyantly.
This is the general point behind Kirby Dick's Outrage. The film's concept is simple enough; namely, the people behind the most baleful and far-flung acts of legislative bigotry are the very same that participate in the actions legislated against.
It is fitting that the film begins with Larry Craig, who, by the way, is totally not gay. He wasn't gay in the gay scene in Washington during the early eighties, he wasn't gay when hooking up with other men a decade later, and he certainly wasn't gay when rubbing feet in the stall of a Minneapolis airport W.C. If you need proof, his wife, and her three children from a previous marriage, will say so. Were it not for this incident, a project like Outrage might never see the light of day. Salacious as the trysts of David Dreier, Jim Kolbe and James McGreevey may be, they'd likely be swept under the rug save for Craig's inspired moment in Prince's hometown.
Using the Craig incident as a springboard, Dick launches into the seedy underbelly of D.C. nightlife. It should be said that the only way in which we can call it seedy with any modicum of intellectual honesty is in its covert nature. That people are hooking up in this den of iniquity isn't altogether shocking… actually, the hole-and-corner nature of these lavender couplings is equally discernible… what stands out is the lengths to which our media goes to in an effort to maintain secrecy. The money moment in Outrage is a scene with Bill Maher on The Larry King Show that split-screens Maher's actual comments on Ken Mehlman with the redacted broadcast. (Sadly, no Jeff Gannon references follow.)
It is telling that our media elite run interference on the story. If anyone is revealed as a villain in Outrage, it is them. Upon looking at the story, any sentient being can determine that the problem isn't with evangelicals or their ilk exclusively; rather, it is with our society as a whole. Excepting our obtuse concept of sexuality, the road of hypocrisy and idiocy couldn't be such an effortless excursion. The collective failure to come to terms with the vagaries of human sexuality reinforces those lies we insist on being told.
That reticence results in a general distaste for the concept of outing. The debate has raged for generations, pitting the sacrosanct dispensation for privacy against the interest of the body politic. It would be easy to err on the side of privacy were it not for the craven scapegoating of people based upon their genital preferences. An instructive scene in the film comes from criticizing Mary Cheney. To the majority, her failure to use public prominence in correcting our outlook appears prudent. When seen through the lens of a distressed minority, it is manifest as nothing short of cowardice, or worse, cynical posturing. In a society that accepts biological deviations from the norm, outing would be unnecessary. In one where Matthew Shepard dangles from a fencepost, it becomes mandatory.
Outrage won't tell you anything you don't already know if you've been paying attention. Those that run on family values are often the furthest from their objectives. The biggest enemy of human rights is the self-loathing striver. Barney Frank is a national treasure for his devotion to honesty. Shepard Smith was a twisted sexbot long before Roxxxy. It might shine a light on these unfortunate truths for those still laboring under the misapprehension that family values is anything but a marketing scheme. If one eye is opened, it is well worth the venture.
—–
Outrage
Written & Directed by Kirby Dick
Color, 90 minutes, 2009