By Joshua Davis
June 15, 2008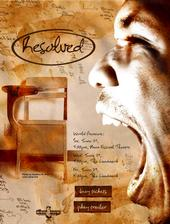 The scene is high school students looking unusually confident and serious.  Young people any instructor would be happy to have in a classroom setting.  Some jargon is used, but most viewers will see nothing out of the ordinary.  Then the speeches begin, and all hell breaks lose.  These kids are speaking at speeds so fast that very little is understood.  If you were in the room with them, you would have little reason to stay longer than a few minutes.  Something must be wrong.  Are the judges going to leave the room in disgust? Certainly this can not be normal; did these kids take an overdose of an often prescribed drug to address ADD?   Weird. Alien. Pointless. Why?
This is the opening of the movie Resolved. Up until this point it would seem obvious that debates should be easy to film.  In national politics, they are often televised and have served as a way to document key parts of political history.  But after jolting the viewer with the opening, the narrator explains that the highest level of high school policy debate started to take a turn in the 1960s to what is called "spread" (SPeed-READing).  Spread involves speaking rapidly in order to get out as many arguments as possible.  One debater started speaking faster and others just kept increasing their pace until nearly all debaters at the highest level were speaking at a rate of 300 to 400 words-per-minute.  The speed at which the debaters speak does not make for comfortable observation.  The film explains that since spread became the norm, only those who have participated in or coached debate can now effectively follow the debates.
Despite this potentially barrier, the filmmakers were still able to create a compelling film that is well balanced between explaining the competition that is debate and how the lives of the debaters affect their approach to the activity and its potentially exclusive nature.  
The actual debates are more of an after-thought in much of the film while the true interest is four high school debaters who are followed over a two year period. Two, two-speaker debate teams are the focus of the documentary.  The first team highlighted is the duo of Matt Andrews and Sam Iola of Highland Park High School in Texas.  It is made clear from the beginning that Highland Park is a school of privilege with a history of success in all areas, academic as well as athletic.  Highland Park is a place where the teachers and administrators declare "it is cool to be smart".  Sam Iola is the senior who, while excelling in debate, has all but given up on trying to achieve in the classroom.  His obvious intelligence has not motivated him to try to apply himself beyond debate.  Matt is Sam's debate partner and only a sophomore.  Because of his young age, he is called "the boy" by his fellow debaters and made to do all of the "grunt work" as his older team members try to teach him humility.  Despite his lack of experience, Matt is shown to be an excellent debater for his age.  Matt and Sam compete at the highest level of debate, traveling across the country, and end their season at what is considered the high school championship of debate, the Tournament of Champions.
Half way across the country a successful, but very different pair of debaters are the focus.  Louis Blackwell and Richard Funches, juniors from inner-city, no frills, Jordan High School in Long Beach, California are the "other" team.  Statistically, only 12 to 18% of their classmates at Jordan will go on to a four year college.  Though they come from a high school that doesn't have all the advantages, that doesn't mean they are out of their league among top debaters.  The film quickly establishes their debate accomplishments.  This team is for real, but differences do exist.  Richard works 14 to 24 hours a week at a grocery store where his managers speak highly of his work ethic.  Debate and his work have kept him grounded, but he makes it clear that this wasn't always the case.  For him, debate is a way to "get out". Without debate, Richard admits that he would be in "jail or dead. . . no lie."  Louis seems less hardened, but does not want to get locked in to one view of himself.  He explains that debate is one of many unique choices that sets him apart from expected behavior.  While rap music may be the norm at his school, and his mother is shown pushing the beauty of 60s and 70s soul, Louis listens to "The Clash" and wears their t-shirts. 
Their coach David Wiltz is often filmed in his car listening to rap music.  He views his program as a way of "changing the game"; both the game that is life and activity he choose to coach.  He acknowledges that debate may have its flaws, but it allows the debaters to express themselves.  It is a forum where people have to listen to the student's views. 
The film seems to reach its dramatic climax some 40 minutes in, with the end of each team's season.  Both teams achieve a positive result.  Achievements are made at the competitive level.  Thankfully for the viewer, after setting up the debaters and beginning to flesh out some themes, the filmmakers skillfully use the second half of the film to follow the debaters in greater detail for a second season.  This leads to some dilemmas and some very unique twists.
The most important development is Louis and Richard's decision to not to directly debate the topic of year (search and seizure), and instead, to focus on what they view as the more important issue . . . debate itself.
Using the Brazilian professor Paolo Friere as a basis for their position, Louis and Richard argue that debate, as a form of education, must move away from simply depositing information in the minds of students and emphasize arguments that are based on life experience and independent thought at the individual level.  This argument, while not entirely new to policy debate, has an unsettling effect on many of the debaters and judges they encounter throughout the season.  Participants are not used to confronting the arguments that Louis and Richard present.  "Why can't you just debate like you are supposed to?"  Louis and Richard are forced to confront why they debate, and whether they even belong in the activity.  In the end, the authentic enthusiasm Louis and Richard present may make the viewer confront some of their own views of the way power structures affect their lives.
Back in Texas, Sam moves on to college, and Matt decides to move on to another school, Greenhill.  For all the play the filmmakers give to Highland Park being elite, Greenhill is another cut above.  As one of the top debate schools in the country, Greenhill provides full funding for the debate team to travel to tournaments nationwide. In the second half of the film Matt isn't provided with the same detailed film coverage as the Jordan team, but his journey and ultimate results provide yet another compelling surprise that viewers should enjoy.
Overall, Resolved gives debate outsiders an eye-opening view of the activity and helps to explain a concept that is completely foreign to most people who have not participated in debate themselves.  Resolved takes on difficult subject matter.  But, by choosing interesting students to follow and by providing a view of debate that is true to all the participants, the film is a captivating journey that will be enjoyed.
—–
Resolved
Directed and Produced by Greg Whiteley
Color, 90 Minutes
One Potato Productions
Debuting on HBO June 16, 2008.