The red and white logo of Coca-Cola is one of a few international brands recognized so instantly and globally. If there is life outside of Earth, Coca-Cola would be one of the brands that would be recognized universally, too, because even Martians would have seen the Coke Santa, which debuted in The Saturday Evening Post before World War II. It's a ubiquitous product that has made itself a lifestyle choice of billions of people.
The Coca-Cola Company didn't achieve this by creating a product so essential to human life; instead it managed to win people's hearts and minds by having an extremely positive and successful marketing campaign. People all over the world associate Coke products with the pursuit of happiness and an improved quality of life. From its 1963 slogan, "Things Go Better with Coke," to the 1979 "Have a Coke and a Smile," to the 2001 "Life Tastes Good;" its jovial Santas making an appearance each year and even the World Cup mascot every four years on the collectible cans, Coca-Cola has worked hard to make us happy while quenching our thirst with the magically fizzy combination of water and sugar (or high fructose corn) syrup. (Full disclosure: This reviewer began drinking Coca-Cola at the age of 4 and for the next quarter century or so was one such content customer, turning to Coke products for refreshment and pleasure with a daily consumption of multiple glass bottles at first, then cans and then the 20-ounce plastic bottles before finally kicking the habit in 2004.)
For those current happy-go-lucky Coca-Cola fans out there, directors German Gutierrez and Carmen Garcia have some grim news to deliver in their new documentary, The Coca-Cola Case. Their film takes that pleasant image of Santa Claus decked out in red and white and replaces it with the blood of international bottling plant workers and the pale white faces of corpses.
Gutierrez and Garcia tell the story of a little publicized lawsuit filed in the U.S. by two human and labor rights attorneys Dan Kovalik and Terry Collingsworth. The two lawyers take on the case of a small trade union, Sinaltrainal, based in Bogotá, Colombia. These unionists claim that since 1986, more than 4,000 of their members have been assassinated in Colombia. They assert that the Coca-Cola Company aided and abetted the paramilitary groups who gunned down their fellow unionists.
It's no secret in the year 2010 that big business and unions don't get along. Pretty much everyone who has access to the Internet is aware of the fact that big corporations such as Wal-Mart and Whole Foods do everything in their power to discourage their workers from unionizing. In the case of Wal-Mart, it takes the hard line of firing any worker who mentions the word union. In the case of ex-hippie John Mackey's Whole Foods, workers are supposedly paid well and offered decent benefits to deter union activity. But murder, kidnapping and torture to stop unionists may be a bit much even for the most hard-core Ayn Rand fans out there.
The Coca-Cola Case follows Kovalik and Collingsworth for a period of several years in the early 2000s as the two try to get the global giant to admit responsibility in crimes committed at its bottling plants in Colombia, Guatemala and Turkey. The film begins with the story of Isidro Gil, a union negotiator, who was shot nine times right on the bottling company's parking lot. His brother Martin says, "as soon as the union formed, problems started," those problems being the murder of his brother, the kidnapping and torture of others. After his brother's death, Martin has no other option but to flee to save his own life. Kovalik says that unions are disappearing in Colombia because of the fear and terror caused by the killings. He and Collingsworth turn to the U.S. Alien Tort Claims Act, which allows non-citizens to make a complaint against a U.S. company in American courts. The suit they file in 2001 lists Gil's murder, the detention and torture and unlawful imprisonment of many other trade unionists.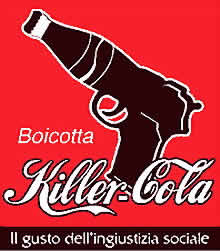 The two attorneys also seek the help of an activist, Ray Rogers, in creating a public campaign against Coke. The "Killer Coke" campaign takes off across college campuses in the U.S. and Canada and many universities, under pressure from their student bodies, drop their exclusive contracts with Coke. Rogers also regularly attends and/or crashes the annual shareholder meetings by showing up with a band of protesters and asking uncomfortable questions to CEO Neville Isdell during the proceedings.
In Guatemala, the tale of the plight of workers is similarly bleak. Eight leaders of the same union were killed one after the other, some inside the plants. The Coca-Cola Company again denies responsibility, but Kovalik says that after an international outcry, the company intervened and the bloodshed ended. As the "Killer Coke" campaign gains momentum, even Ed Potter of Coke's Global Relations tells Kovalik that they are "feeling the heat."
The Coca-Cola Company announces that they have agreed to have the International Labor Organization investigate the cases in overseas bottling plants. Many universities satisfied with this seemingly self-accountability move bring Coke back on their campuses. Yet when Rogers contacts the ILO, no one can verify such an investigation.
Then, a moment of hope in the battle for justice happens, when Kovalik manages to get a signed declaration from a witness who saw a Coca-Cola official give money to a paramilitary leader shortly before the killing of several unionists. Kovalik is elated and thinks he has sealed the case. He goes back to the U.S. victoriously to give testimony at a congressional hearing. Instead of Kovalik's key finding making the headlines, the hearing focuses on questions about Kovalik's credibility. A congressman has a picture of Kovalik in his office in front of a Che poster. The human and labor rights attorney finds himself defending his office decor and comes away defeated and exasperated. It's heartbreaking to watch.
Still, after years of legal antics, Kovalik and Collingsworth say they got a call from Coke's Potter to settle the case. The Coca-Cola Company offers the Colombian union workers money and not an admission of any guilt, but a promise to denounce the paramilitary activities in Colombian press. The attorneys are thrilled. Yet, when they take the offer back to the Colombian workers, the unionists deny the offer. One of the stipulations of Coke's settlement asked the workers to leave the company and their posts in the unions. So, the workers say, "this wasn't about the money, this was about our right to form and stay in our unions."
The Coca-Cola Case is a gloomy story about the true face of globalization and multinational corporations. Its ending is not a happy one as there are no fairy tale Hollywood endings in our contemporary David v. Goliath battles. The story of Coca-Cola is not unique; we find out in the film that Chiquita and BP have come under similar accusations of using local paramilitary troops to shock and awe workers abroad. Of course, when one goes to the official Web site of the Coca-Cola Company, there is a pleasant "Sustainability" page which defines a very progressive workplace rights policy: "The policy contains our principles on freedom of association, forced labor, child labor, discrimination, work hours and wages, safe and healthy workplaces, workplace security and community and stakeholder engagement. The Workplace Rights Policy applies to the Company and all of the entities it owns or in which it holds a majority interest." That's wonderful if indeed it's being applied at the bottling plants in Colombia, Guatemala and Turkey since the making of this film, though one can't help but be skeptical.
The average American consumer buys 412 eight-ounce Coca-Cola drinks in one year. It's hard to imagine that the filmmakers of this documentary want everyone to boycott Coke forever and to have the entire world stop drinking Coca-Cola products. There will always be Coca-Cola and if Coke goes away, then Pepsi would take it over and continue the same practices. The point is to have these products that have become such a big part of our lives be manufactured without terrorizing people across globe, stealing their water or ruining the environment. The price of an eight-ounce can of Coca-Cola is about 50 cents. A postage stamp costs 44 cents. Maybe if each American who buys 412 cans a year could buy one can less and spend that cash to send Coca-Cola a letter about what kind of a company they would like it to be. What would happen then? If Coca-Cola, Pepsi, Nestle, Chiquita, BP, et al., constantly got consumer feedback about their labor and environmental practices, maybe we wouldn't have union workers dead in the streets of Bogotá and thousands of gallons of oil floating in the Gulf of Mexico? Or is it too late?
—–
The Coca-Cola Case
Directed by German Gutierrez and Carmen Garcia
Argus Films 2010
85 minutes Color