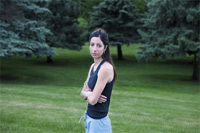 Who would frame somebody with a Gardenburger?
In the real world, probably, no one. At the Renfrew Center in Florida, where the documentary THIN takes place, one anorexic named Shelly believes the staff of the rehabilitation center does.
Lauren Greenfield's debut as a documentary filmmaker is not for the faint of heart. In the United States, we have come to believe that the food we are eating is making us fat, which it is. The majority of American adults are clinically overweight or obese (more than 63 percent according to 2005 studies).  However, there are also five million people who suffer from eating disorders that keep them too thin. Greenfield opens the film with a little known and shocking truth: one in seven anorexic women will die from complications caused by their disease.
She takes us on a dark journey inside the Renfrew Center, one of a handful of treatment centers in the nation for women who suffer from anorexia or bulimia, most often both. We first meet Shelly, a psychiatric nurse who enters the clinic at a whopping 84.3 pounds. Polly comes to the center after attempting suicide over two "pieces" of pizza. She does admit on camera that the cheesy-doughy goodness wasn't the only thing that led her to slice her wrists, but she adds, "that was the straw that broke the camel's back." Brittany is 15 and she's had eating disorders since she was eight. She went from 185 pounds to 95 in one year and it becomes clear to the viewer that perhaps she didn't have the best role model around her when she starts talking about the "chew and spit" candy parties that her mother initiated. When her mother comes to visit Brittany at the center, she picks through her plate right in front of her child. Another woman, Alisa, says she developed her eating disorder after hearing the pediatrician deem her fat when she was 7 years old. She recounts graphically a typical day in her life: She would drive to Dunkin' Donuts and buy a dozen doughnuts then to Burger King and McDonald's to buy large orders of breakfast items, all to bring them home, eat them in their entirety and vomit profusely afterwards.
The Renfrew Center is an interesting place, and not of the positive variety. Like most other mental institutions or homes for the elderly it is a very controlled environment with unfriendly staff. On top of being unsympathetic, several of the Renfrew's staff are also obese women. Greenfield doesn't explore this oddity much other than giving the viewer plenty of close-ups of the anorexic patients talking about their daily eating progress with one very large nurse. This nurse is the same one that interrogates Shelly about purging, claiming that a "half-digested" Gardenburger has been found in the trash in her room. We see Shelly yelling profanities about how long it has been since she had a Gardenburger and how she would readily admit indeed if she did purge. Nevertheless, it becomes a massive conspiracy for the staff. The nutritionist at a weekly "Team" meeting cites the incident as an example of why the staff should not be trusting Shelly. There is an eerie, Orwellian aspect to the way the staff interacts  with the patients, talking in terms of "what's good for the Community" and etc. What's good for the Community, apparently, is getting as much money out of these women and then dumping them out to the streets as soon as they start showing any sign of improvement. Polly, who early in the movie is told by the staff that she is doing well, later gets kicked out for smoking in the bathroom and for items confiscated during a room search that reminds one more of a federal penitentiary than a rehabilitation center. Brittany is sent back to her weight-obsessed mother for stoppage of insurance payments.
Greenfield does a marvelous job exposing this irony that anorexic women face: It is hard enough for them to seek help and in the end when they do, the hardest part of their journey begins. What Greenfield does not seem to explore though (perhaps for protection of privacy) is what causes these women to have such disorders. Eating disorders are an extension of deep emotional issues but we see little to no discussion during the therapy sessions as to what these problems might have been for the patients. It may very well be that the therapists were too incompetent to get the women to talk about what really bothered them, but if there was possible footage in this category, its inclusion would have contributed to the story. Another area that deserved more attention in the film is the quality (or lack there of) of food these women are exposed to both in and outside of Renfrew. They talk of eating fast food and at the end of the film Alisa and Shelly meet up at a horrendous restaurant serving up greasy chicken wings and nasty nachos. Perhaps the question that needed to be explored more was: "What do these women consider as food?" The only glimpse Greenfield gives us is Polly's indignant face at the sight a birthday cupcake with vanilla icing and synthetic sprinkles when she declares, "All I wanted is a bran muffin." Is it possible that these women would have reacted better to more wholesome, decent food throughout their lives and at the rehab center? 
Greenfield's debut is not a must-see for everyone, nor is it an entertaining documentary to watch. There is a lot of purging and talking of purging, plenty of gruesome, count-the-ribs nudity and even a rather long ER-like bloody stomach-tube extraction scene. But if Greenfield's research is correct, then, chances are many of us know at least one woman who might cause her death due to her eating disorders. To understand that person better and maybe to get inspired to reach out and hand her a bran muffin, go see THIN.
Umut Newbury
10-20-2006
—–
Director: Lauren Greenfield
HBO Films 2006
1 hour 42 minutes
Premieres on HBO: Nov. 14, 9 p.m. EST
Review this film and others for yourself.