By Bryan Newbury
Twitter:Â @asiplease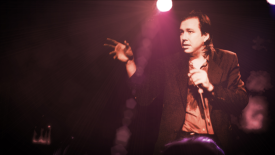 As a reviewer, I am usually loath to do what I just did. Namely, first-person reviews or reactions. I always cringe seeing that "I" on a page, whether it is here or in the New York Times. Certain subjects demand stripping any pretense of objectivity, though, and American: The Bill Hicks Story is definitely one of them. This is because Bill Hicks is my comedian. I caught his One Night Stand in Chicago on the cusp of my formative years and it changed me as a person. I made sure to tape it on second airing and proceeded to memorize every bit in it… despite the fact that, unlike Mr. Hicks, I did not consider comedy a viable career option. That thirty minutes was up there with anything Pryor had ever done. It was all mine.
Until five years later, when Bill Hicks started popping up in all sorts of places. The most memorable encounter I had with Hicksmobilia was at the apartment of a person I didn't know from Adam. He lived upstairs from a friend of mine and had the beer or taco sauce or whatever we were lacking at that particular moment. In the corner of his living room was a framed portrait of Bill Hicks. It took three glances to confirm, but there it was. Memories are tricky things, and they often graft embellishments into the psyche, but I swear it was an oil painting. Now, that is commitment to a comedian.
A few of these experiences were enough to find out that Bill Hicks had a following. In his case, the word 'following' is more what we'd ascribe to the Dalai Lama or Rabindranath Tagore than, say, Bob Saget. As the years go by, that following gets larger and more fervent, revelatory and more high profile. (I am thinking here of Keith Olbermann's 'Bill Hicks is still ahead of his time' segment.) As is the pattern with genius, this all comes well after Hicks 'left in love, in laughter, and in truth,' largely because his message and material become more incredibly incisive with every passing war, crisis or bastardization of the aesthetic landscape.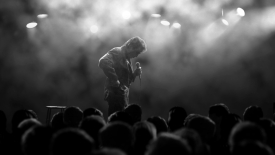 If Hicks is your comedian, you've no doubt seen every bit of video available, listened to each album – listened to it backwards as well – know every bit by heart from Randy Pan the Goat Boy to We Live In A World to Ding Dong (the last one is incredibly timely) and have by this time discovered that there were layers of meaning and bits of cosmic truth that become more evident in 2011 than in 1999. You don't need my recommendation to see American. Tough shit. You're getting it.
When the word 'animation' came up in the press releases, I quailed a bit. It was the only thing that could possibly make this a film short of five-star accolades. With the subject, it is hard to go wrong. The minute the film stalls, just go to any Hicks clip. You've won the audience back. No doubt the filmmakers were cognizant of the fact that, with such a rabid following, lousing this up would be unpardonable. The idea of a half animated feature was brave. I expected it to fail. I was wrong.
Harlock & Thomas (Graham Smith should be mentioned here as well) did a smashing job of it, juxtaposing still images in ways that convince the viewer he is watching live action. After several viewings, it is hard to distinguish what was their handicraft and what was video footage. It could've been jarring. It could've stalled the flow of the film. It didn't. This technique seems pretty revolutionary, and it makes me wonder why more filmmakers aren't using it. The short answer, most likely, is that pulling it off is a lot harder than Harlock & Thomas make it look.
Beyond that, there was the question of just what these two were going to tell me (or any fan of Hicks) that I didn't already know. For starters, there is footage of a very young Bill Hicks at the Comix Annex doing bits that illustrate how obvious his direction would be, how prescient and precocious his wit was. There is a detailed story of his time in Los Angeles, his collaborations with Dwight Slade and Kevin Booth… though only a glancing mention of Ninja Bachelor Party, but no film is perfect and few are fourteen hours long… his relationship with David Johndrow and his family life beyond what was in his material. For the casual fan, if there is such a thing, or the person unfamiliar with arguably the finest American comic mind in the 20th Century, American details the roller coaster ride that was his career. It makes clear the extent of his substance abuse issues, which is something that took him to deeper and darker places than we might've known.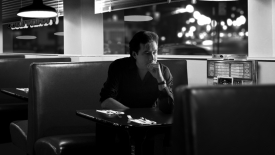 On this point, they do well to avoid the clichéd tale of a great performer battling with demons to emerge from his cocoon sober and stronger, ready to share what he has learned. This isn't so hard a feat, given that Hicks conquered his addictions (most of them, anyway) just in time to die at a ludicrously young age. Tackling this bit of information is where the wheat and chaff are separated. Again, Harlock & Thomas manage to convey the story from birth to death in a way fitting their subject. Though a hagiography is what Hicks deserves, there is nothing maudlin or dramatic in American; rather, they handled it in the way that it must have been for all involved, which is to say, absurd. To put it another way, The Bill Hicks Story isn't one for Dickens. It is better told by Beckett. This team is neck deep and singing.
American is worthy of shelving next to your Sane Man DVD, under your oil painting, next to your quote board. If you're not an obsessive fan of Hicks, it is still worth attending and owning when available. If you're not a fan at all, then you probably haven't made it this far, because you're mouthing out the first paragraph while the rest of us are down here evolving. No film can adequately encapsulate the man whose influence is so wide ranging, whose cosmology and understanding of society were so advanced. It can't possibly give a real indication of just how funny Bill Hicks was, or how grand it truly is to have had a person worthy of comparisons to Juvenal in front of a video camera here in the U.S. and in the U.K. It can't tell you just how pitch-perfect the Revelations performance was, but it can tell you how he got there. Harlock & Thomas manage to do this, and to do it in a reserved manner, letting the story tell itself in the way it needs to be told. When it comes to Hicks, we will always be left wanting more. Too bad for humanity that he isn't with us today, though it is hard to imagine him seeing the past decade without suffering multiple aneurysms from the sheer madness and idiocy we are capable of unleashing on ourselves and the world. Too bad. As Mary Hicks says in the film, 'Bill… you should've known him, is all I can say.'
American opens in theaters 8 April 2011.
—–
American: The Bill Hicks Story
by Matt Harlock & Paul Thomas
Color, 2011, 101 minutes