By David Loftus
June 24th, 2009
By now, many of us have grown accustomed to films that make us uncomfortable.
There have been documentaries that showed us unpleasant truths, whether old ("The Fog of War") or new ("An Inconvenient Truth"), and plenty of pop films which thrived on humiliating their heroes (from "There's Something About Mary" to "Flirting With Disaster") while we laughed and, to a degree perhaps, empathized.
Just when you thought nothing new could be done outside of CGI animation, particularly in the documentary format, here comes "Courting Condi," dubbed a "musical docu-tragi-comedy" by its makers. Part road picture, part buddy movie, part musical, and yes, part straight documentary at the same time as it's almost a parody of documentaries, "Courting Condi" is often funny, sometimes downright silly, and occasionally startling as a whack upside the head.
One might also drag out that aging, much-abused term "post-modern" here. But I wouldn't want you to think there's anything stuffy or academic about "Courting Condi." Simply, it's the "story" of a chubby loser of a young musician who conceives a great love for George Bush's Secretary of State, and – under the illusion they could somehow meet, date, and end up as soulmates – tracks her life and career from Birmingham, Alabama to Washington D.C. by way of Denver and Palo Alto (Stanford University).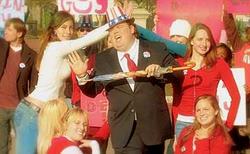 Slowly but surely, it also morphs from a ridiculous shaggy-love tale (our Romeo makes several MTV-style music videos he calls "love disks" and is shown mailing them to his beloved) to the real-life depiction of a good Christian girl (a playmate of one of the four girls killed in the 1963 bombing of the Sixteenth Street Baptist Church in Birmingham) and African-American scholar … who underwent a transformation into a corporate board fixture after whom an oil tanker was named, who enjoyed the assistance of affirmative action but punished and ignored others who did the same, who overlooked civil slaughter in Nigeria and lied about Iraq, and who okayed the torture of Muslim prisoners.
What's especially pomo about the movie is its ploy of putting writer-director-producer Sebastian Doggart inside the story, as a documentary film director who follows the "co-star" – lovestruck Devin Ratray, acting under his own name as well – in pursuit of the title character, who of course never appears on camera by choice but only in archival footage (and as an animated cut-out, among other things).
The character of "Doggart" in the film is clearly depicted as being much less intelligent than the real filmmaker (a King's College, Cambridge graduate in the social and political sciences, and veteran director of stage and TV documentaries on both sides of the Atlantic), just as Ratray (whose acting resume includes Buzz in two "Home Alone" movies and several episodes of "Law and Order") can't possibly be as credulous and foolish as he appears in this movie. The climax (or nadir, depending on how you look at it) of their buddy relationship occurs midway through the movie when "Doggart" tries to convince "Ratray" during a beach shoot that the narrative arc demands a nude scene.
Early on, many viewers are apt to feel an I-can't-believe-they're-doing-this discomfort about the romantic premise. We're being made to watch this loser try to catch the eye of the nation's first black female Secretary of State, who is nearly twice his age? In the course of interviewing Rice's childhood neighbors and friends in Alabama, the filmmakers offer a very Michael Moore moment when Ratray attempts to speak to Rice's mother as she's trying to get from her car in the driveway to her house and pretty much brushes them off (understandably so).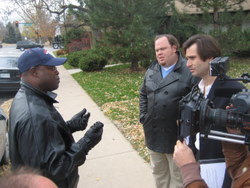 Things start to turn a little weirder – because less obviously farcical and futile – as Ratray and Doggart get Rice's one and only ex-fiancé, former Denver Broncos receiver Rick Upchurch, to show his engagement ring and reminisce about their dates; then receive romantic advice and potential love songs from Grammy-winning composer and one-time Elvis girlfriend Carol Connors; and then put Devin through the image-making tutelage and focus-group grinder of Frank Luntz, campaign marketing wizard to a string of Republican politicians. Connors and Luntz strut their respective expertises, but they also play for the camera a little, and thereby induce a little extra vertigo in the viewer. Read the rest of this entry »