By Bryan Newbury
October 8, 2007Â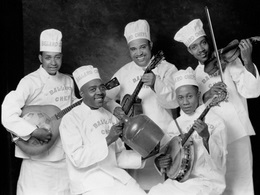 Delightful. 
It, among many others, is a word the reviewer rarely has occasion to honestly affix to any film, let alone the weighty topics seen in documentary film today. It is the first word that came to mind when considering Chasing Gus' Ghost. It was soon joined by a number of other laudatory parts of speech, but "delightful" has it. Todd Kwait's journey into the jug band world does many things well, but beyond all others it sets a mood in perfect symbiosis with the topic. Jug band music is, beyond any other consideration, celebratory. If we're speaking of the outright exuberance of "Feather Bed," or the liberation of "Newport News Blues," or even the number of elemental topics in blues music which seem at first to speak of anguish and despair, until the listener opens himself to the fact that the singing and playing of these songs is a triumphant catharsis, the common emotion felt when listening to Gus Cannon's Jug Stompers, The Memphis Jug Band, or The Ballard Chefs is unmitigated joy. Kwait has done a marvelous job of channeling this ear-to-ear grin throughout the film. 
Part of the charm is in its relaxed presentation. Kwait, a Cleveland attorney and businessman, takes us on his journey to the roots of the music up to the 1960's revival and into the future. He manages to accompany us in a very personal way. This can be fatal to a film when done unartfully, but there isn't a moment where he delves into narcissism. Instead, the viewer feels like he's having a beer with Todd, spinning some 78's. No scene could illustrate this jolly filmmaking method better than his collection of Amazon.com packages from his step, queuing a mountain of music up and lighting his pipe. It is hard to tell whether this is an example of control, knowing just where to lay off on the personable, or if it is just that Kwait is such a likable chap one never grows tired of him. Whatever it is, he manages to disarm all but the sourest viewers, and the end product happens to be the most enjoyable film anyone will see this year. 
Devotees of southern culture, blues and string band music, and folk revival stars such as John Sebastian alike will cherish multiple viewings. There is much for the casual viewer as well. If you haven't heard of Gus Cannon or Will Shade (which, if you haven't, you should report to the nearest record store and have a knowledgeable salesman straighten you out from square one) there is still much to enjoy. Chasin' Gus' Ghost is not made or intended for the specialist.
A note on that. Those of you who, like the reviewer, spend the better part of the day meditating on the vicissitudes of minstrelsy, the finer notes of Charlie Patton's biography, the banjo technique of Murph Gribble, or the picking style of Blind Blake, might lament that Chasin' Gus' Ghost isn't so much about Gus Cannon as his legacy. There is some great footage and biographical information (some would argue over Cannon's age at death, 96 or 104) and it doesn't hurt a bit that Gus' voice is provided by none other than Taj Mahal. Kwait travels to Memphis, Brownsville, Louisville and Sweden to provide a solid background to the story. For the discerning reader, the latter location is home to a foremost scholar on the subject. We get an idea of how Gus struggled with the issue of appreciation vs. appropriation, and some splendid footage of Gus rapping the banjo. This is great to see, because though Cannon played an up-picking style in his ensemble, he was a virtuoso at the old time technique. Call it thumping, rapping, frailing or clawhammer, we get to see an all-too-brief but much welcome clip of Gus in action. 
Purists and obsessives might voice some consternation at the focus on the revivalists like Sebastian, Kweskin and Weir among others. With so much to learn about Memphis, 1928, why focus so intently on Greenwich Village, 1968? 
For one, those of us who eat, sleep and breathe old time music or ethnomusicology in general, are a minority. Kwait made a film to inform and entertain, not to join the archives at The University of Mississippi. Setting aside that the subjects interviewed are steeped in jug band music, they are popularly recognizable. It is the common traversal for the music fan from good music, back to great music, and eventually to eternal music. Sebastian in particular is an engaging and likable guy with a good deal of respect and knowledge. Fritz Richmond's role in the film is touching to the point of tears, and the contemporary Japanese revivalists like Mad Words are tremendous. 
In a feature film, only the staunchest of purists could ask for more balance. If the complexion is looking too pale, consider the sections with the sons of Sleepy John Estes, concert footage with the inimitable Yank Rachell, or the interviews and performance of Sankofa Strings. 
The latter are enjoying the beginnings of a discovery that is much deserved. If there were no other reason to watch and own the film, it would be sufficient to see the knockout performance of Rhiannon Giddens. One third of Sankofa Strings, she belts like Bessie and exudes all things wonderful in a performer. She, along with her fellow polymaths Dom Flemons and Sule Greg Wilson, is reviving the tradition in the best possible way. They deserve a feature on their own, but their participation in Chasin' Gus' Ghost assures its must-see status. 
It is difficult to believe that Chasin' Gus' Ghost is Todd Kwait's first film. The pacing is superb, the narrative is winsome, and the research tight. The specialist might not learn anything new, but he will delight in the performances, perspectives and footage. The casual viewer will enjoy the same while becoming more informed about the history of American music. Every breathing entity will smile to the whimsical animation interludes. 
With a realistic expectation for this type of documentary, there is little fault to find. This reviewer's only wish is that a complete box set with every minute of every interview and performance some day will be available. No doubt the hours upon hours of footage would be nothing short of… there's that word again…
Delightful.
—–
Written and Directed by Todd Kwait, Produced by Todd & Carol Kwait
2007, Ezzie Films, Color and Black & White
http://www.chasingusghost.com/
Chasin' Gus' Ghost will be making its official World Premiere at the Woodstock Film Festival on Saturday, October 13th at 10pm.