By Sarah Boslaugh
March 31, 2009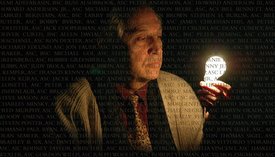 You can make a movie without actors, without sound, without sets, and without a script. But you can't make a movie without images: they're called "moving pictures" for a reason. So it's somewhat surprising that only two documentaries have been made about the art of cinematography: Visions of Light, directed by Arnold Glassman, Todd McCarthy and Stuart Samuels in 1992, and Cinematographer Style, directed by Jon Fauer in 2006.  
The two films take opposite approaches.  Visions of Light included segments of many classic films along with commentary by some of the leading cinematographers of the day. Cinematographer Style includes no clips of other films. It's composed entirely of interviews with 110 cinematographers speaking about everything from how they got into the business to the differences between working with film and video. No particular point is pursued at great length; Cinematographer Style is more of a collage of well-chosen opinions and anecdotes about the art and practice of cinematography than a tutorial or overview of the profession. 
The 86 minutes of Cinematographer Style were edited down by Matt Blute from 33 hours of interviews (or 200 hours, according to a different source), some recorded before a black screen, some in more natural settings. That may sound like the most boring 86 minutes of your life, but it's not: Blute arranges the interview clips thematically so the cinematographers seem to be engaged in a collective conversation about their work. Visually as well Cinematographer Style is the opposite of dull. In fact, the amazing variety of lighting and backgrounds used in what are primarily talking-head interviews itself constitutes a testimony to the cinematographer's art.  
Each cinematographer introduces themselves at the beginning of the film, but after that they appear without identification. Some are sufficiently famous to be recognized by their appearance alone (Allen Daviau, Gordon Willis) but many of equal accomplishment are not; it's a largely anonymous profession and the average film-goer may not even be aware of (or interested in knowing) who was responsible for the images they see on the screen. Fauer's choice to not identify his interview subjects furthers the impression that they are craftsmen engaged in a collective conversation about their work, without ever expecting to enjoy the kind of celebrity enjoyed by actors and directors. And to their credit, one point becomes clear immediately: for people whose work is centered on images rather than words, these cinematographers are quite articulate about what they do and why.  
The subjects interviewed are male and female, young and old, and come from 15 different countries. Alphabetically, they range from Remi Adefarasin, BSC (a British cinematographer with extensive credits primarily in British and European television and film) to Vilmos Zsigmond, ASC (a native of Hungary who has worked in the United States since the 1960's, and who has shot many well-known American films including Close Encounters of the Third Kind, The Deer Hunter, and The Witches of Eastwick). On average, each cinematographer has less than one minute of screen time, and it's not surprising that some get more face time than others. First among equals (and by the way, he wants you to know that he's a cinematographer not a director of photography) is Vittorio Storario, three-time Oscar winner for Apocalypse Now (directed by Francis Ford Coppola, 1979), Reds (directed by Warren Beatty, 1981) and The Last Emperor (directed by Bernardo Bertulucci, 1987). He also gets the primary sequence in which the art of cinematography is simultaneously demonstrated and discussed: illuminated by a single bare light bulb, Storario moves it around his face and chest to demonstrate how different he looks (and the difference in mood accomplished) simply by changing the location of the light source.  
Cinematographer Style is of vital interest to those who shoot films and critique them. But even the more casual film fan will find a lot to appreciate in this documentary, including revelations by the cinematographers about how they chose the look of some of the most famous films of our time (everything from The Conformist to The Matrix to Gangs of New York) and how that look was achieved. Sometimes the answers are surprising: I always assumed that the color palette of The Godfather was worked out in advance, in consultations between director Francis Ford Coppola and cinematographer Gordon Willis. In fact, Willis says he decided on the film's look about 20 minutes before shooting began, and still can't explain why he made the choices that he did.   
DVD extras include extended interviews with Vittorio Storario (58 min.) and Gordon Willis (59 min.) and a biographer of director Jon Fauer. There is a scene index, but it's not sufficiently detailed to locate particular clips, which is frustrating (but perhaps intentional, given the "collective conversation" nature of the film).
—–  
Cinematographer Style
Docurama Films
Directed by Jon Fauer
Color, 2006, 86 Minutes
Further information, including a trailer, is available from the film's web site, http://www.cinematographerstyle.com/, as is an accompanying book, Cinematographer Style vol. 1. The DVD of Cinematographer Style is also distributed by Docurama Films: further information is available from their web site http://www.docurama.com/ or by calling 1-800-314-8822.