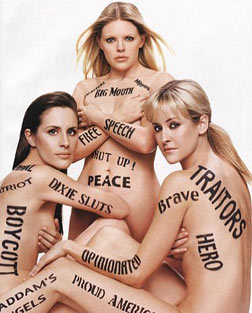 By Umut Newbury
March 5, 2007
What do Frank Sinatra, Gene Kelly, Katharine Hepburn, Humphrey Bogart, Danny Kaye and John Huston have in common?
They are legendary Hollywood stars beloved to this day by average Americans. No one would dare call them unpatriotic today. In September of 1947, they had the courage to form a group called the Committee for the First Amendment to stand up and protest the infamous McCarthy witch hunt of House Committee on Un-American Activities.
In the following 60 years, Americans seem to have forgotten that sometimes, it takes high profile celebrities to capture the spotlight and speak up against government activities that regular folks question. Somehow, in the post 9/11 world, we are OK with gawking at photos of Tom Cruise's baby, Britney Spears' head shaving adventures and the televised custody proceedings for Anne Nicole Smith's orphaned infant. But we've made sport of making fun of the likes of Tim Robbins, Susan Sarandon, Sean Penn and Kanye West. We want to know every little dirty secret of our celebrities, except for what they have to say about what's going on in the world.
Enter into this twisted worldview some unlikely characters and you've got a very fascinating documentary about the Orwellian madness in which we live. Shut Up & Sing chronicles the First Amendment battle of the Dixie Chicks – three Texan country stars who previously brought the American public such culturally illuminating songs as "Goodbye Earl."
In 2003, Natalie Maines, Emily Robison and Martie Maguire sang the national anthem at the Super Bowl. They were the best selling female group of all time and Lipton tea was the official sponsor of their "Top of the World" tour. It just so happened that at the same time, the United States was preparing to go to war in Iraq. When the Dixie Chicks showed up in London on March 10, there were thousands of people in the streets rallying against the war. With that backdrop to their concert, Natalie Maines did what a lot of entertainers would have done, which is to make sure that the frustration people feel about some people from Texas does not spread to others like herself and her bandmates. So, she said a few words: "We're with you on this one. We don't want this war. We're ashamed that the president of the United States is from Texas." And the crowd cheered loudly. The band had a great performance, their manager Simon Renshaw told them they rocked the house and they moved on to their next stop. In the meanwhile, The Guardian proceeded to quote Maines and the U.S. media soon followed. Within days, the reputation as well as the lives of three good ole girls from the Lone Star state would change forever.
At first, Renshaw decides to shut down the Web sites for the band and focus on a public apology. But he finds out quickly that Texans are not only proud of their state but also stubborn. Maines does not back down. In a rare moment of candidness, we catch Renshaw making the remark, "Wouldn't it be great if there were some CD burnings and you got banned?" Natalie Maines' reply is not so enthusiastic. Yet, as we all know, this is exactly what happens.
They return from their world tour to find out that not only are there people crushing their CDs with tractors, but that Lipton backs out as their sponsor. They get to do the Entertainment Weekly cover and get interviewed by Diane Sawyer. They see the bright side in their situation and say, "At least now we can do what we want musically, because we don't feel there's anyone left to please."
From that point on, the directors Barbara Kopple and Cecilia Peck take us on a flashback-flashforward narrative of how the Dixie Chicks made their next album and how their careers and images were transformed in a matter of a few years. There are some clips from the band's early history, such as when they played the Pillsbury Bake-Off gig. Then there are the intimate familial moments – childbirth and Halloween with the children and husbands.
What the documentary reveals, however, is that though there were protests outside the venues for their American leg of their "Top of the World" tour, the crowds at the shows seem to continue to love the band just as much. While Pat Buchanan is on TV saying "Dixie Twits are the dumbest broads," they get a standing ovation in Greenville, S.C., at their first show in the U.S. since the antiwar speech. Natalie Maines tells the crowd, "We have 15 seconds to hear your boos," and somehow all we hear is loud applause and cheers.
Of course, during this time, it would have been impossible for superpatriotic country star Toby Keith not to get involved in the controversy. He joins in by putting up a doctored photo of Saddam Hussein and Maines in his backdrops at concerts. Dixie Chicks get back at him by wearing shirts with the initials "FUTK," which they claim stands for "Fans United Together in Kindness." When Keith's fans respond with shirts bearing "FUDC" initials, Maines says, "What do you have against Dick Cheney?" Good, quick Texas wit at hand.
All this fun, publicity-gathering banter come to a dark end before the Dixie Chicks' performance in Dallas in 2003, when the band receives a death threat against Maines. The women have to get prepped for the show in San Antonio and fly by private jet to the venue in Dallas.
Shut Up & Sing makes us understand why the band changed musical direction and produced their very angry next album "Taking the Long Way" with Rick Rubin. After getting this detailed background of the last four years, it's also hard to judge Maines when she says, "The people who banned us, I'll never talk to them again."
But alas, this is America, home of the happy endings. Just weeks before the DVD release of Shut Up & Sing, the Dixie Chicks swept the Grammys with five awards, including Album of the Year and Song of the Year. They may still not get too much airplay on country radio, if any, but at least Pat Buchanan has come around to their much-hated political stance from four years ago.
Shut Up & Sing is bound to become a classic documentary for highlighting the interesting public debates we've been having about celebrities and free speech. It demonstrates that mainstream media plays a much heavier role in demonizing dissent than the public at large. As the Dixie Chicks told Diane Sawyer, "The public loves Natalie for who she is." They will love her (and Emily and Martie, too) even more after watching this film.
—–
Directed by Barbara Kopple and Cecilia Peck
93 minutes